Fusion Power Module
Edit
Generates nuclear power. Total power generated = 2,000 + Level * 2000 gW.
The generator is mainly stafed by old angry russian guys, in labcoats with goggles, though their more for decoration.
unless you speak russian, they won't share their vodka suppy with you, which they bought with rest of the resources since they built the damn reactor out of a lump of uranium and 200 paperclips.
Build Requirements
Edit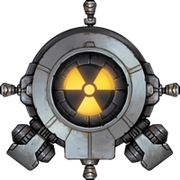 Ad blocker interference detected!
Wikia is a free-to-use site that makes money from advertising. We have a modified experience for viewers using ad blockers

Wikia is not accessible if you've made further modifications. Remove the custom ad blocker rule(s) and the page will load as expected.